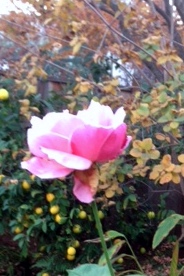 Finally, California is seeing real winter weather after several years of drought! What a difference in my garden in just a few short days of heavy storms. The strong winds left just a few bright orange persimmons hanging on the brown bare limbs. Beautiful, strong ripe fruit, they stubbornly hold tightly to the tree without regard to the forceful winds.
New vibrant shoots have popped out of previously trimmed bushes in defiance of the winter season. Obviously very happy with the abundance of rainwater, only frugally available in the past years, they seem to have come alive in this dormant season. My rose bushes even have several buds forming. Don't they know its winter?
While the garden isn't at its seasonal peak, freshly trimmed, orderly, fruits and vegetables planted for the late summer harvest, it has a vibrancy, life and unpredictability to it that defies the season. Like a wild woman in midlife!
While we are no longer in the spring/summer high growth season, woman demonstrate a strength and power at this time in our lives. We hold strong and steadfast to those values and  people who are important in our lives, much like the last fruit on the tree, regardless of the "storms" in our life. We grow and change in new, unpredictable ways in any season. And many of us, blossom at this time in life!
Don't you want to be a wild woman at this time of life? I do!